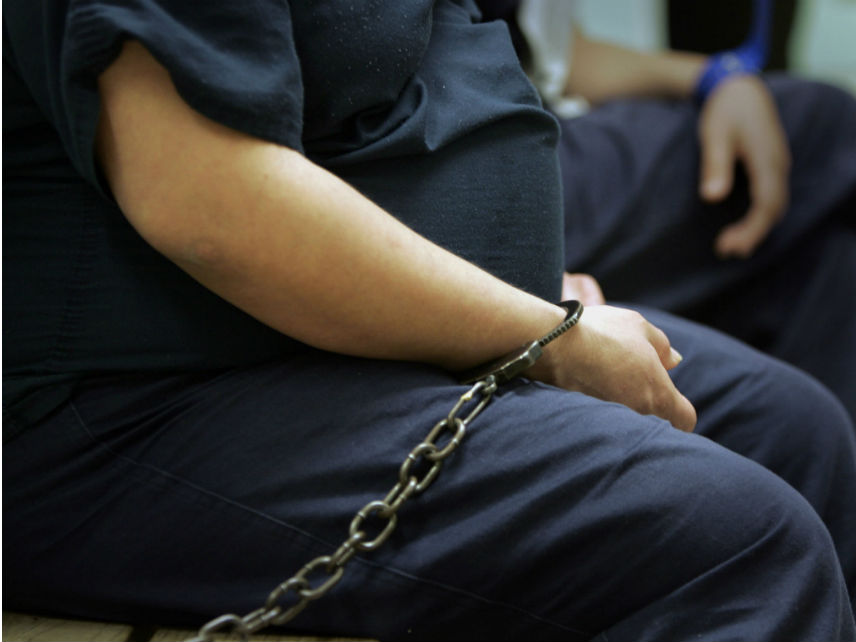 3 May, 2019
Shackling Pregnant Inmates in Georgia
Yesterday, Governor Kemp signed HB 481, more commonly known as the heartbeat bill. HB 481 effectively bans abortions after a heart beat is detected (approximately six weeks of gestation). Politicians in support of HB 481 argued that this is an important and necessary step for our state to take so that the unborn are protected.  Those who have fought against HB 481, argue that it violates women's right to choose. Protestors gathered at the capital in downtown Atlanta wearing red robes and white bonnets. The sight of these women dressed as handmaids made a dramatic and powerful statement about resistance. Only a pregnant woman and those she chooses to include in her decision-making process should have a say about the outcome of those pregnancies.  HB 481 infringes upon women's reproductive rights by effectively forcing them to remain pregnant even when they need to terminate.
We've been here before. I know. Roe v. Wade is supposed to be settled law. Still, the fate of HB 481 as it makes its way to the Supreme Court may ultimately offer a blueprint for other states who've proposed similar bills to effectively end abortions.
That politicians in Georgia have made the state a model for how to protect the innocent unborn is ironic for many reasons, not the least of which is that Georgia is also one of the few states that continues the practice of shackling pregnant inmates when they are transported across different facilities, to court, or to medical appointments. Further, in Georgia, incarcerated inmates are shackled to their hospital beds when in labor – a precautionary measure taken to ensure they do not escape.  Health advocates have long denounced this practice, arguing that it presents a health risk to both the birthing parent and the unborn child. Among those risks, is that shackles cannot be removed quickly enough in the event of an emergency (i.e. if during labor doctors need to perform an emergency c-section) which could result in the death of either the child or the birthing parent.  That shackling is done in Georgia is even more ironic as Georgia has one of the highest c-section rates in the country, well above the national average. Here, more so than anywhere else the practice of shackling pregnant inmates merits reconsideration.   
Currently, sitting on Governor Kemp's desk, is HB 345 – a piece of legislation that would end the state practice of shackling pregnant inmates. That it has taken us until 2019 for such legislation to pass in the Georgia legislature is sad when you consider that lives have been lost because of this practice. But, it is not surprising that Georgia is only now reconsidering the practice of shackling pregnant inmates. Not surprising because most incarcerated individuals are people of color, and African American women make up the fastest growing population of inmates in federal prisons. We continue to practice shackling in Georgia because those most affected by the practice are the most disenfranchised. If shackling practices in Georgia were disproportionately putting the pregnancies of white, heterosexual, middle-class women at risk, we would have done something about it by now.
Social scientists have, for decades, pointed to the intersectional inequalities in reproductive justice. US policies and practices may infringe upon all women's bodily autonomy but not in the same ways. While white, middle-class, heterosexual people seek to preserve the right to abortions, women of color, the poor, and those who are not heterosexual fight for the right to safe procreation.  Georgia holds the dubious honor of being one of only a handful of states that still shackles pregnant inmates. Governor Kemp, who has made public his commitment to protecting the unborn by signing HB 481, now must decide if he values all the unborn equally. Will he also sign HB 345? Will he ignore the bill, effectively allowing it to become law in July without ever taking a public stance on it?  Or, will he veto it – empowering the state to continue this dangerous and dehumanizing practice? All eyes are watching.